6 Ways to Build and Grow Your Audience on YouTube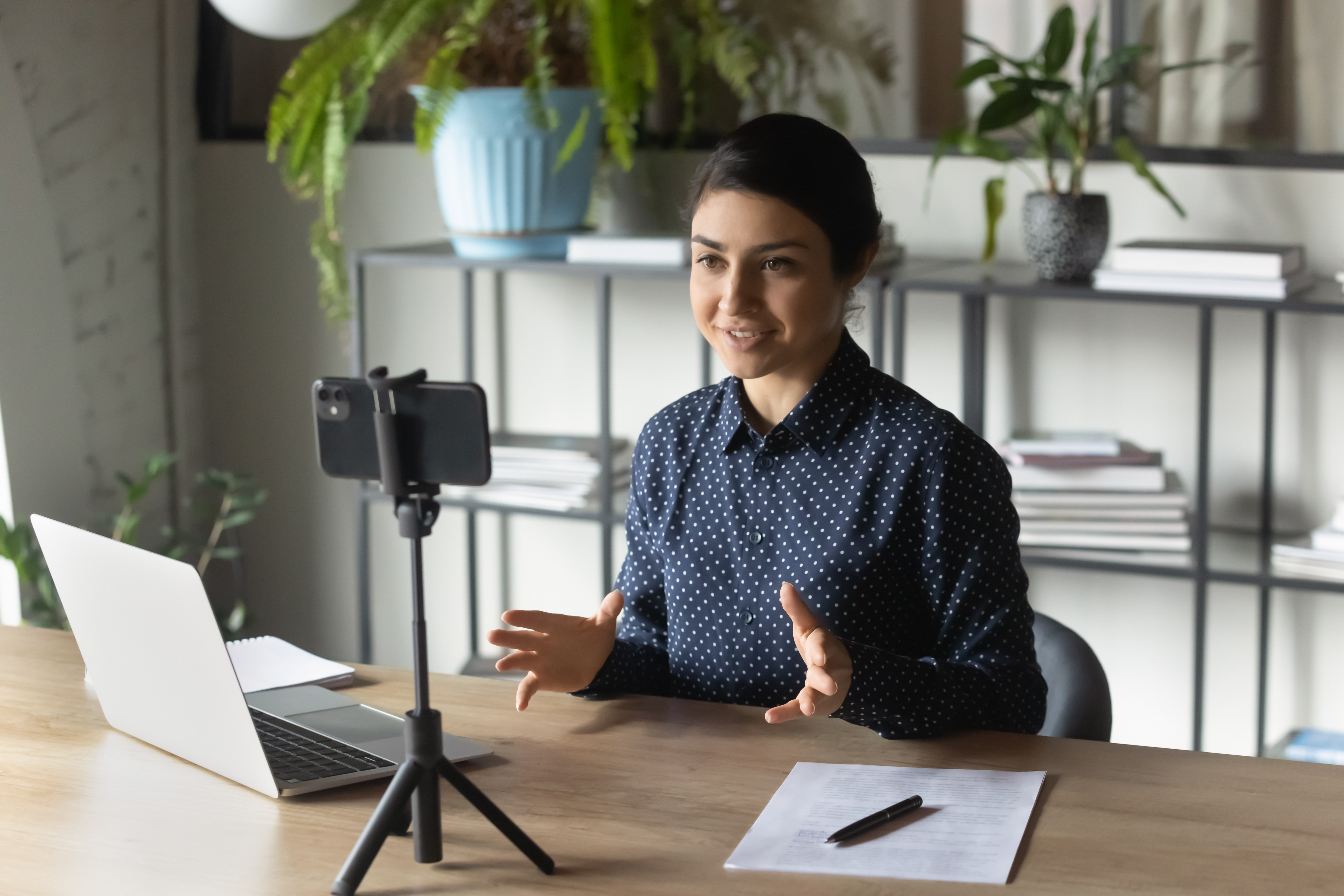 It's no surprise that YouTube is one of the best places to be these days when it comes to marketing your practice.
Not to say that all other forms of content or platforms no longer serve a purpose, but I never recommend putting all your eggs in one basket for marketing. Each platform offers a different audience and method of sharing content. Plus, what's popular this month might not be next month.
YouTube is still a leading social media platform. It's the second most popular search engine after Google. That means people are going to YouTube to learn and discover new things.
As a practitioner, starting and growing a community on YouTube is a fantastic way to showcase your level of expertise and further your practice within the industry to reach new patients. It takes time to grow an audience on any platform.
Let's dive into six ways you can build and grow your audience on YouTube.
1. Branded Channel and High-Quality Video
First things first, as with any social media or website platform, your online presence needs to be cohesive and evident of your professional brand representing you and your practice. You need to make sure your branded YouTube channel is another extension of what you represent.
You want your brand to be recognizable when someone clicks your profile or one of your videos, or even when someone looks at a thumbnail. To achieve this, you must ensure your video graphics, fonts, colors, thumbnails, and channel banners are all utilizing your brand assets.
You want to ensure that you're also using current graphics, logos, and photos of yourself, your team, and your practice. You should invest in proper lighting (like a ring light from Amazon) and a good camera (or high-quality phone camera) to produce the highest quality video possible when you are creating content. This will indicate a level of professionalism when your content is clear and in focus. Here are a few ways to highlight your brand throughout your YouTube channel.
Thumbnails: Include descriptive words and eye-catching photos that are representative of your brand, your values as a health-care professional, and related content to be shared in the video.

Channel Banner: You can also create a strong impression with your channel art. Showcase your top brand words or your newest service or product launch. You can change this as often as needed!

Channel Description: A space to get your audience on a more personal level with you. Think of it as the "About" section on your website.

Channel Trailer: Create a branded channel trailer video. This is just like your "About" section, but it includes your elevator pitch and uses video to create a trailer. You can pin this to your main profile page so that new viewers can see this video before anything else, which will help your audience get to know you and what you can offer them. Then they'll really get a sense of what kind of content they can expect from your channel.
Pro Tip: If you aren't familiar with Canva yet, they offer many templates that can be used for YouTube graphics, such as thu

mbnails and channel banners. All you have to do is change the font and colors to match your brand.
2. Perform YouTube Keyword Research
YouTube is the world's second most popular search engine after Google Search. A huge part of getting your videos noticed on YouTube is using the right keywords throughout your channel. To know which keywords to use, you can perform a keyword search by opening YouTube and entering words into the search bar.
Begin typing in a word related to your niche, but do not press enter. Instead, stop and view the suggestions that will appear. This will give you an idea of what the most searched-for subjects are within your niche.
For example, if your main focus is to help women lose weight, then your keywords may be "female weight loss," "hormones affecting weight loss," "healthy weight loss for women," "insulin resistance and weight loss tips for women," etc. The keywords will broadly describe your niche and will be used by your ideal patients when they go online to search for a professional like yourself. Many searches that appear are also fantastic content prompts when creating and updating your channel.
3. SEO Optimization for Your YouTube Videos
The purpose of SEO optimization is so that your videos rank high when it comes to searches amongst your niche (that's where your keyword research will come in handy!). You want to be using your main keywords in the right places throughout your channel to help YouTube determine its relevance to your ideal patient's searches. The places you can be using your keywords are your video title and description.
Get creative with your video titles because you want them to be compelling enough that your ideal patients read your title and want to click and watch. Just keep in mind that the YouTube title length is 70 characters max. Your description keywords won't show up in the search engine, however, you can still use them to persuade users to want to watch your video. Make sure it's direct and clearly points out what you will be sharing within the video.
Pro Tip: Tools like Tube Buddy can help you find the right keywords to use for your videos.
Optimize Your YouTube Videos for Watch Time
Watch time is the number of minutes the average user spends watching a specific video. Your goal, of course, is to get your full videos watched, but that is not always the case. You have to keep your ideal patients interested and wanting more throughout your entire video.
Watch time is very important because the longer a viewer watches a video, the more opportunities YouTube has to share ads. YouTube wants users to stay on their platform as long as possible. This also explains why their search algorithms will actually promote videos with a higher watch time.
So just how do you get your patients to watch your videos in full? Try the following tips.
Create Longer Videos: This may sound like more work than recording a 5-minute video, but think about it, you have so much knowledge to cover throughout your entire niche. Speaking on one subcategory alone can easily be covered in a 15- to 20-minute video. Think of all the times during the in-person visits that you wish you could sit and talk more with your patients. This is your opportunity to address those subjects and issues.

Avoid Long Introductions: While you want to try creating longer videos, don't use drawn-out introductions. You can probably relate to how annoying these can be at the beginning of a video. You just want to get to the point already. They clicked your video for a reason. So, give them what they want right away.

Get as Creative as Possible: Try to think of different angles to film from throughout the video or cut to other videos while you continue to speak. This will make your video more engaging. People will often get bored of watching someone speak directly into a single-frame video, so you want to try creative ways to mix it up. Change up your background, ask questions, or add graphics and sounds to bring the viewer's attention back to you. Remember to practice how you speak. You want to express enthusiasm and sound excited about your content.
Pro Tip: Just like other platforms, YouTube has something called "shorts'' that are short-form videos, and the platform is currently promoting this growth. You may want to also try this format in addition to the others.

4. Collaborate With Other YouTubers Within Your Niche
A great strategy that works well across many platforms is collaborating with other professionals within your niche. This is especially beneficial if they already have an existing, large audience on YouTube.
You're able to reach more people by utilizing their audience. This will help grow your channel faster because their audience already knows, likes, and trusts them, which means they will value the people they collaborate with, too.
They'll want to learn more about you and your practice. You can also interview other professionals within your industry that may not have a YouTube audience but are also experts within your field. This will still aid the growth of your channel because it shows you are a source of authentic content with a high level of expertise by bringing in other professionals.
You can even start a series once or twice a month where you collaborate or interview a professional within your niche to discuss specific topics together. Starting a series is another great way to keep your users coming back for more. This creates a higher likelihood that they will subscribe to your channel.
5. Promote Your Channel on Other Platforms
Starting a YouTube channel and growing a new audience from scratch can seem daunting, but don't forget that you already have an existing audience. You've probably already spent some time growing and nurturing an online community on Instagram, LinkedIn, Instagram, and Facebook, along with your email list, website, and more.
Once you have your channel up and running, promote it to your current audience. Your ideal patients that already follow you are going to love the new avenue to learn from you.
This will increase engagement and subscriptions to your channel. You can also promote your channel and videos in posts and email campaigns. You can embed your YouTube videos themselves directly within your emails or in your blog posts to drive traffic directly to your YouTube channel.

Remember, like any other content strategy, you can repurpose whatever content you currently have and adjust your format and dialogue to suit YouTube. You have social media posts, blogs, articles, TikToks videos, and Reels that are all great starting points for you to repurpose and turn into stellar videos for your channel.

Finally, you have to treat your channel as you would any other platform to grow. You will need to show up and engage with your community. Reply to comments, like and comment on other videos within your niche, and treat them like your current community.
Now that you've got the basics of how to start and grow an audience on YouTube, don't wait any longer to get started.