Designs for Health Launches Dietary Supplement Specialist Certification Program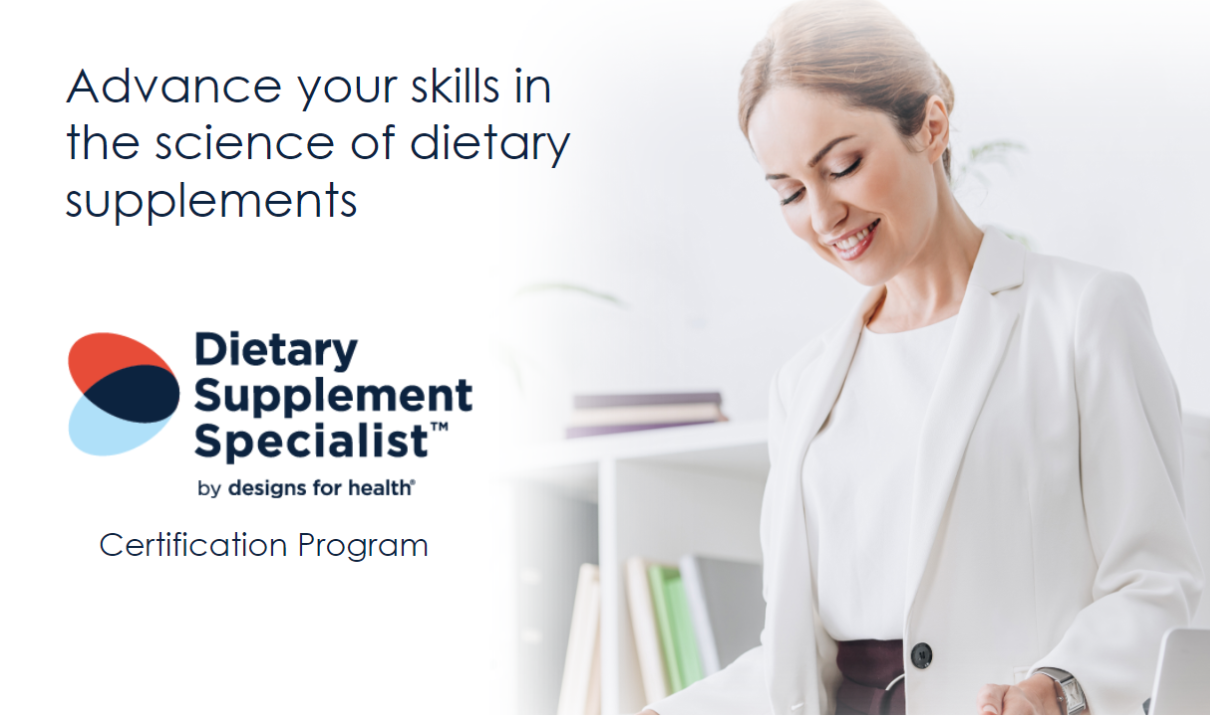 In order to up-skill and support the professional path of health coaches and other integrative-focused practitioners, Designs for Health recently launched the Dietary Supplement SpecialistTM (DSS) Certification Program, an accredited educational program featuring a comprehensive curriculum on the science of nutrition and dietary supplementation. The DSS Program will be offered as a self-directed, online learning course, enabling participants to learn at their convenience, from anywhere, at any time, on any device.
Career Advancement Opportunity
Designs for Health created this program as an opportunity for participants to advance their career by expanding their knowledge and understanding of nutritional science through our evidence-based program. As learners progress through the DSS program, they'll discover invaluable information that will empower them to select and apply dietary supplements in a safe, effective way.
Knowledge is a brand pillar at Designs for Health, making it vital to develop a course that improves scientific understanding while simultaneously supporting professional development. To achieve these goals, Designs for Health is proud to be an approved continuing education provider by NANP, NBHWC, AANWP, and ANWPB. Completion of the DSS Program enables graduates to receive continuing education units (CEUs) in support of their certification.
What Participants Can Expect
The DSS program includes 13 in-depth, educational modules that explore the essential aspects of biology, physiology, and nutritional biochemistry, as well as nutrients, herbs, and other compounds that support healthy function. The educational emphasis is given to dietary supplementation, including ingredient identification, formula composition, and evidence-based benefits in client care.
Upon completing the program, participants will elevate their professional status with advanced knowledge of nutrition and dietary supplementation. In addition, program graduates will be equipped to enhance the wellness of their patients and clients, becoming part of an exceptional community of passionate health professionals.
5 Key Course Takeaways
A practical understanding of macronutrients, micronutrients, herbs, botanicals, including their formulation and use in dietary supplements

Evidence-based education in nutrition science, with aspects of biology, physiology, and biochemistry

The ability to identify, differentiate

,

and evaluate products based on ingredient profiles, composition, and quality

Continuing Education Credits (CECs) in support of their

professional certification

Qualification for a professional customer account with Designs for Health and access to a wide range of

educational resources and

professional nutritional formulas from the DFH catalog