Early Success for Fx Chocolate Brand's New Sunshine, a Finalist in 2021 NEXTY Awards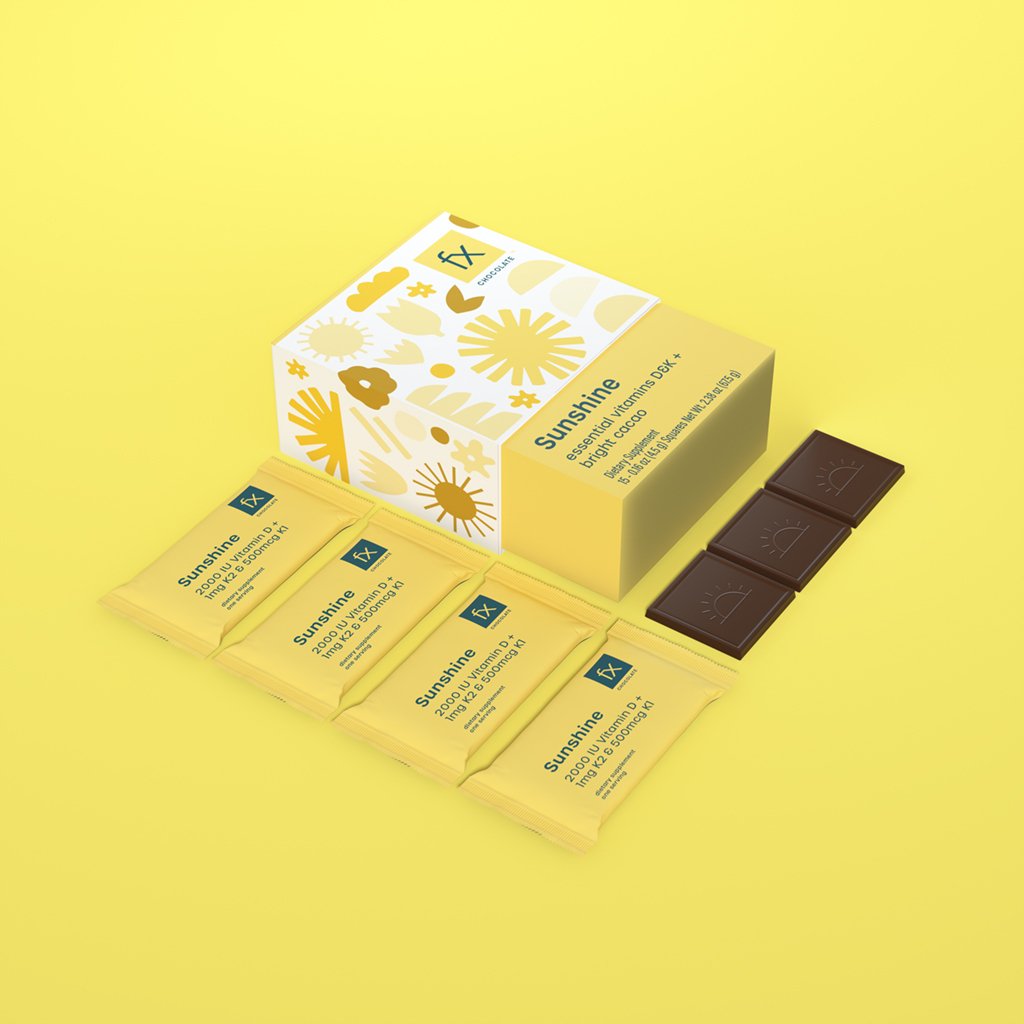 In recent months, Designs for Health launched our new brand Fx Chocolate® introducing a novel solution to delivering clinically relevant doses of high-quality supplements in handcrafted chocolate. This range was carefully curated and developed using thorough testing and manufacturing techniques for optimum results.
Because of this, the newly launched Sunshine product by Fx Chocolate to a finalist spot in the Best Supplement category at the 2021 NEXTY Awards. To be selected as a finalist in the Best Supplements category is an exciting accolade for Fx Chocolate brand and its newest high-quality, handcrafted supplement.
Fx Chocolate® SunshineTM
Fx Chocolate Sunshine is a synergistic blend of clinically dosed Vitamin D and bioavailable forms of Vitamin K infused in 60% dark chocolate. This delicious nutritional product helps promote bone and cardiovascular health, immune function, and a positive mental outlook.*
The formula is made up of 50 mcg (2,000 IU) of vitamin D3, 1 mg of vitamin K2 (as MK-4), and 500 mcg of vitamin K1 per 1-square serving. This tasty chocolate square is packed with nutritional elements and contains zero grams of sugar – Sunshine is sweetened with allulose, a sweetening agent naturally found in jackfruit, figs, and raisins leaving no bitter aftertaste.
About the NEXTY Awards
The NEXTY Awards recognize the most innovative, inspiring, and trustworthy CPG natural product brands in the industry. More than 650 product submissions are reviewed by two judging panels at the New Hope Network in Boulder, Colorado, and compete across 23 categories that range from supplements to food, beverage, personal care, natural living, and more.
There were 78 brands chosen as finalists in this year's judging panels – all inspiring a healthy, sustainable future for both people and our planet.
* These statements have not been evaluated by the Food and Drug Administration. This product is not intended to diagnose, treat, cure, or prevent any disease.