Dr. Cyd Charisse Williams, MD Shares Her Success & Vision Streamlining Patient-Care with a Customized App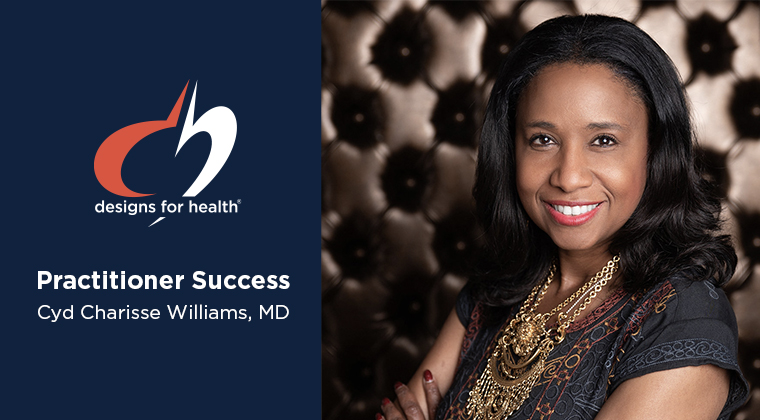 Designs for Health (DFH) is proud to share our ongoing success stories that recognize and celebrate various health-care professionals in our community who exemplify contributions to the practice of medicine.
This month, we had the pleasure of speaking with Dr. Cyd Charisse Williams, MD, a Functional Sports Medicine graduate of the University of Wisconsin-Madison. She completed a Primary Care Sports Medicine Fellowship with a specialty in Adult and Child Sports Medicine, using comprehensive treatments, unlike any traditional medical office, for more than 25 years.
Williams Path to Functional Sports Medicine
On the college track team, Dr. Williams noticed her peers rotating in and out of the office for the treatment of various injuries, and she was determined to find out why. What are they doing or not doing in this room to minimize re-injury? How can injuries be treated differently to get different results?
During medical school, Williams struggled with serious health problems, including hypertension, thyroid issues, and eventually, a lung collapse — and she was not getting answers. So, she began to figure things out for herself.
"Athlete or not, the brain is the motherboard of all physical activity," emphasized Williams.
As a solo practitioner at Athletic Sports Medicine & Wellness in Orlando, Florida, she offers a holistic, prevention-based, drug-free approach to treatment. Dr. Williams has no in-office shortcuts, as each patient appointment is more than an hour. She does all the wellness herself, including labs, orthotics, heart rate variability testing, and in-depth vision testing.
Working with athletes around the country, ranging from children and weekend warriors to professional athletes, her focus is not solely on sports injury but on helping her patients improve their brain function and take control of their health with proper nutrition.
William's mission is to offer comprehensive care in one place, with an on-site chiropractor, massage therapist, and acupuncturist, creating a one-stop- shop for patients to visit and be treated.
"Supplementation is an essential part of the program," stated Williams.
Growing Your Practice Without Compromising Patient Care
Williams was hesitant to offer supplements for sale in-office, as she was worried that patients would think she was doing this to make money. Eventually, she found that ultimately patients are open to supplementation as part of their overall treatment and to achieve optimal health; however, they often lack the understanding to know the right supplements to choose.
Offering professional-grade supplements in-office helps patients avoid taking less efficacious or incorrect formulas for their individual needs. Plus, her Designs for Health Functional Medicine Consultant is always on hand to answer questions, making it easier to recommend the right supplement while keeping the focus on the patient.
Recently, Williams discovered a more efficient way to apply her treatment principles and quality of care to a wider patient base daily.
She is in the final stages of developing a custom app in Well World, a centralized and more sustainable system that supports her practice and patients. The app will streamline patient care and ultimately save time in-office.
Patients simply log in for instant access to their supplement recommendations, nutritional requirements, and uploaded videos of their physical therapy exercises, and they can easily reorder supplements anytime, anywhere, resulting in better patient care.
"By taking care of your patients, you take care of your practice," states Williams.
Her passion for helping people lead healthier lives means meeting them where they are by using strategic solutions that keep patients engaged and committed to their health.